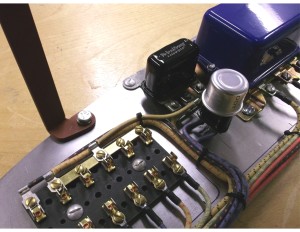 With 45 years of experience wiring custom vehicles, we can safely say that no two electrical systems are the same. We have found that an off-the-shelf wiring harness kit is going to typically need to have substantial modifications to be tailored to your project anyway so why spend the extra money and be limited by a kit. We stock or have access to the components to build an electrical system from the ground up so we are able give you a better electrical system tailored to your vehicle.
Our systems utilize high quality GXL high temperature abrasion resistant wire with General Motors color code system. Service connectors are statistically placed within the harness so the vehicle can be easily disassembled without cutting wires. For connectors that are possibly exposed to weather we use sealed Delphi Metri-pack or Weather-Pack connector systems to ensure long life of your electrical system. We incorporate a variety of harness sheathing materials depending on routing, abrasion resistance, aesthetics, and temperature requirements.
For reliability and to eliminate the need to remove paint for grounding of lights, gauges, motors, relays, computers etc. we integrate a grounding system within the harness using strategically placed nodes bonded to the body or frame. This is especially important for on board electronics and fiberglass bodies.
Build Options
Vintage look cloth covering wiring
Cotton harness wrap
Smooth vinyl tubing
Corrugate tubing
Adhesive-less tape wrap
Split braided Nylon sleeving
When the electrical system is finished, we update the schematics as built with fuse panel and relay directories added for your future reference.
Need a car electrician?  Contact us at 541-312-2434 or sales@customautoelectric.com to discuss your specific needs.  Located in Bend, Oregon, Custom Auto Electric has customers in the states of  Oregon, Washington, Idaho, and Nevada.