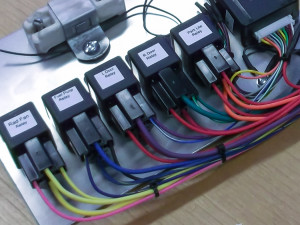 You've bought a fully electronic gauge package, the best electronic fuel injection system, a high output one wire alternator, key fob remote for the doors, interior light delay, the list goes on!
To maximize the benefits of the latest and greatest products, they need to properly integrated with one another. Don't risk damaging these components, loosing your hard-earned money and hours of labor you've put into your project by assuming an "Out of the Box" electrical system is all you will need to do the job. The truth is, few custom cars, street rods, pickups or specialty vehicles are built the same. The same is true for the electrical system requirements in them.
At Custom Auto Electric we design an electrical system specifically for your car or truck based on all the components and accessories you have or want to put into your vehicle and on the way you plan on using it.
Before any wiring goes into your vehicle
Discuss with you current and planned components and accessories
Test all components and accessories for electrical requirements
Determine a total system configuration taking into account harness routing, available space, serviceability, electrical noise, and current distribution
Draw schematics for your specific car electrical configuration
After drawing schematics and purchasing of parts, installation of the electrical system in your vehicle physically begins.
Need a car electrician?  Contact us at 541-312-2434 or sales@customautoelectric.com to discuss your specific needs.  Located in Bend, Oregon, Custom Auto Electric has customers across the western United States.